Designed as a free space where users can express their thoughts and ideas without being judged, Uhive states that Grey World is an 'untraceable space, but be aware that illegal activities are not permitted.' How this is achieved is unclear. For more than 10 years social media has become ingrained into our daily lives, a source of news, entertainment, connection to friends, family and like-minded individuals, both positive and negative.
This is where the Uhive Token comes into play, a currency powering its own decentralized digital economy. As the platform grows it'll share 30% of its advertising revenue with users based on their engagement, actively rewarding them for using the social network. Uhive continues to make inroads regarding user adoption, and recently celebrated its 2 millionth post. As more users sign up to the network and tokens are traded across the platform, Uhive's underlying principle of rewarding users for their time, will become increasingly attractive. As uhive pushes the boundaries of what's expected from a social network, its users will experience multiple Uhive token-driven experiences.
The new social media platform is giving away 8 billion tokens for the first 200,000 new users who sign up. New users on Uhive have the opportunity to earn Uhive tokens (the platform's own cryptocurrency) simply by downloading the app, posting content and engaging through likes, sharing and commenting on other posts.
Blockchain technology and cryptocurrency at large have been huge game-changers for the global economy over the past ten years. Social media companies have not been ignoring this, and many have adopted tokenization to move forward their main agenda, gain popularity, increase their customer base, and also monetize their apps. IMP is short for "Impression", a marketing term that indicates the number of times a particular piece of content is displayed without having the user perform any additional action.
Currently, the most popular social media-attached token is Libra, Facebook's new crypto. Facebook is expecting to release its independently managed cryptocurrency later in the year. The main idea behind the innovation of Libra coin according to Facebook is to further monetize the Facebook app, and also take advantage of the huge user base who are already using the app on a daily basis.
The project itself expects to revolutionize the modern advertising market, making it more competitive and profitable for all the participants at the same time. Tokens bough on token sale will be exchangeable for at least 1000 impressions. UHIVE is a new, innovative and easy-to-use social network. It integrates the world's first physical dimension and Hybrid blockchain technologies.
Where can I keep my tokens?
The focus will be on the research of neuroscience-driven computing by using the blockchain technology. We will use the NMP utility token to connect the global research in the field of neuromorphic computers. Token holders will receive quarterly dividends based on project revenues. These dividends will account for up to 25% of profits through each project. We will be releasing blocks of tokens only when new manufacturing projects are being developed or projects need funding to expand.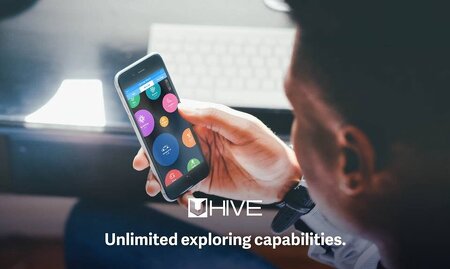 The system allows you to put your VR gear and explore the Civilized world and the Grey world, enter users' spaces, watch movies, browse photos and read comments and article's in a new and innovative way. layer, which will support object and face detection, video analysis, sentiment detection, and behavior analysis, to give users the best possible experience. These 'spaces' can also be thought of as property, able to be bought, sold, rented or monetized in various ways. So the more popular a space is, the greater the sale value.
These range from anime, comics, beauty, makeup, sport, through to art and architecture with personalized content sent to users based on the spaces and profiles they interact with. Here users can have infinite spaces, all of which are anonymous.
Incorporating Uhive tokens into the social network means people who don't necessarily understand the technology will still be able to use it. UHive aims to create a new social network based on the concept of physical space. With UHive, users can occupy a "physical" space inside a virtual environment. The social network exists within an infinite space, and users can occupy whichever part of that space they wish to occupy.
Spaces Stats
Founded in 2016, UHIVE is based in London, UK and currently opening a new R&D center in Amman, Jordan. Uhive was built from the ground-up to incorporate its own cryptocurrency – Uhive Token. Tokens are built on the Ethereum blockchain and are used to facilitate multiple transactions across the platform. UHive is the world's first social network with physical dimensions and blockchain technology, combining technology with human psychology to deliver a new, remarkable and unique user experience.
Your space is your voice, your passion, your experiences. It's who you are. Share it with the world.
The stage has been set for new upcoming social media companies like Uhive, which allows users to connect and share content with their family and friends publicly or anonymously, to create its own cryptocurrency.
and supports virtual reality to offer users a unique, enjoyable and secure experience. Currently only available for Android devices, Uhive is a social network where users have 'spaces' across two worlds, the Civilized World and the Grey World. In the Civilised World they can have multiple spaces across 26 interests.
UHIVE is a cutting-edge blockchain-based social networking platform, that it is designed to appeal to all social network users. UHIVE combines Artificial Intelligence and Blockchain technology, along with a human touch, and offers users a unique, enjoyable and secure experience. It offers users a completely new and innovative way to explore the social experience with their senses. Branching away from the traditional experience of using hashtags and keyword searches, UHIVE allows users to discover the journey for themselves, by walking thought infinite spaces, and visually identify what is worth exploring. A new FREE, advanced social network divided into two contrasting Worlds; Civilized and Grey, featuring VR & UHive Token.
An in-app marketplace, where goods and services will be traded using Uhive tokens is next on the team's agenda and is expected to launch this summer. Uhive's goal is to make its social media app an essential go-to-platform for social media users worldwide. Getting Uhive tokens into the hands of as many users as possible is key to this. By sidelining 8 billion tokens for distribution, Uhive plans to make using crypto an everyday thing for its users.
The tokens will also be used to cycle back value to users through revenue share, rewards and enhanced gamification. Uhive was launched on Google Play and the App Store just over one year ago as an early access app. This gave us time to "test the waters" and gauge user feedback over a period of time while we kept the app in stealth mode (in other words – we never publicly launched). Over the past 12 months we exclusively invited 1,000s of productive and creative social media accounts to start posting content and create their profiles on Uhive.
This enables us to reach more people across the globe and increase their access to value through a variety of means. MFT is a service to help the poor increase their income, thereby improving their standard of living for those who live below poverty level.
Or, you can use VR technology – like VR headsets – to explore the space like you would explore any virtual reality environment. Individuals are given the option to communicate publicly or try on a new identity and anonymously interact with one another in the ultra-private Free world. While our revenue-share model rewards users whose content we monetize with an impactful percentage, creating a robust community, and truly giving power back to the people. )–Having raised $2.3 million in funding, garnered 50,000 early-access users, and distributed millions of units of its digital currency, the new social network's creators are keen to launch Uhive by Q4 of this year. The social network will be built from the ground up to support virtual reality, although this feature will be optional for users.
Download Uhive App
You can explore the physical spaces inside UHive from a virtual reality device. The social network will also allow you to view movies and photos using VR and perform other social interactions with VR. Uhive, a new upcoming social media company, allows users to connect and share content with their family and friends publicly or anonymously to create its own cryptocurrency. Uhive tokens have two primary differentiators; it's the only currency that can be used across every transaction on the Uhive network. Whether that's to purchase goods and services, promote content, buy spaces and space names, or even special effects.
This ensures that the market is not saturated with our token. We have real revenue producing companies and projects, and we want token holders to share in how successful our projects are! Our vision for the project is to provide access to a wide range of digital currency projects and services as we help to open up new spaces and opportunities for humanity.
Brands and companies can also occupy positions within that space. You'll be able to explore the space within your mobile app.
Our coin will be used to finance each project through the sale of MNG at base exchange rate, which gives an opportunity to the donor (coin owners) to even earn profit when MNG price raises at the exchanges. Currently our coin is at mining stage and already listed at some exchanges. Donation projects will be listed our our site shortly. Uhive, the newest social network coming out of the tech hub of London, announced the launch of their crypto token rewards scheme recently.
How are Uhive tokens similar to other cryptocurrencies?
We listened to their feedback and continuously re-developed the app until here we are. With 100,000 users signed up and actively using Uhive we have decided the time is right to publicly launch Uhive and invite the world to a new social universe.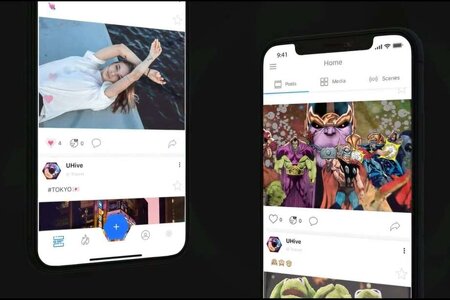 The stage has been set for new upcoming social media companies like Uhive, which allows users to connect and share content with their family and friends publicly or anonymously, to create its own cryptocurrency. Uhive tokens work similarly to Libra in that it's the only digital currency that can be used on the network for transactional purposes. How it differs though is that Uhive is already launched, and you can start earning tokens, or purchase them through Google Pay, PayPal, BTC or ETH, right now. 10 USD Neuromorphic Neuromorphic.io is the world's first company, which will develop Blockchain-based Neuromorphic Computing Technology.