Users set up an Ethereum account and allow their device to act as part of the infrastructure of a mesh of connectivity in order to facilitate data sharing. Almost 4 billion people do not have internet access due to poverty and lack of infrastructure – RightMesh has developed a network that does not rely on the internet to connect devices and share data. RightMesh AG, a Swiss company, is on a mission to bring connectivity to the next billion users by multiplying the combined power of blockchain, mesh networking, and its own RMESH tokens.
RightMesh AG will produce an ERC20 RightMesh token called RMESH which can be used to purchase goods and services within the ecosystem, with examples being device storage, internet access, battery and processing power, geolocation, and more available within the ecosystem. RightMesh aims to disrupt the Internet by providing device connectivity through a "mesh network" to the huge number of people around the world with no internet access. There are so many incredible ideas in this ICO, incredible ambitions, but the current weaknesses are major, not small. RightMesh need to urgently find another way to access the Internet without using Telcos and Mobile Networks. They need to think about how they are going to scale with 4bn people if those 4bn people don't have a smartphone.
While our founding team has been marketing and growth hacking technology startups for more than 20 years now, we did not, and will not, have the capacity to fully leverage this skillset as we grow. To this end, earlier this spring RightMesh's parent company, Left, acquired another Vancouver-area company called ICO Agency, led by Joe Deobald.
More users equals more demand, more demand equals more mesh density, more density equals more network value. More users also means more staking required to facilitate connectivity between the users. Saju Abraham, RightMesh's Chief Product Officer, has often said in Telegram that the RightMesh token is the fuel that powers the entire network. As a payment token, it delivers utility to those in the network and allows them to pay for services provided by other network participants be they connectivity, device resources, sensor information, or digital goods made available on the network itself. However, one key element often overlooked by many is the role the RightMesh token plays with a RightMesh Superpeer.
The RMESH tokens are ERC20 compatible tokens that lie at the heart of this platform. One of their main functions is to incentivize users for providing nodes that provide the connectivity needed for the platform to work.
The project essentially aims to re-imagine the way we communicate as a species by taking advantage of existing tools (6 billion smartphones along with other connectable devices) and creating a global network through incentivization and affordability. By specifically designing the project with people living in poverty in mind, the project may well fill a gap in the market by bringing connectivity to the unconnected while strengthening the usefulness and effectiveness of the mesh with each new member. RightMesh is powered by decentralized blockchain technology and tokenization.
RightMesh ICO Review: Beautiful Ideas, Great Team, But…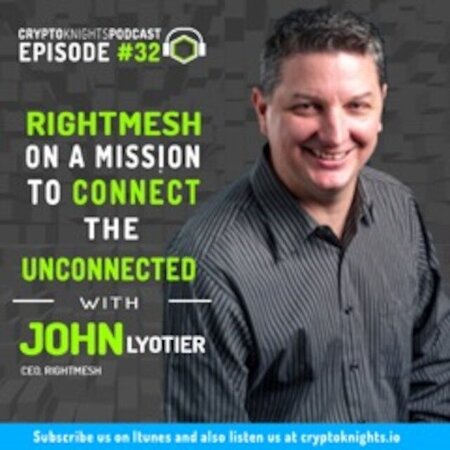 RightMesh want to do this by piggybacking off local companies or people in the community who have high-speed Wi-Fi internet connections. We mean Networking as in Mobile Networks, Data Networks, Fibre Networks – which all have one thing in common, to share data & enable internet access. The main difference between the approach Rightmesh is taking and that of their main competitor Smartmesh, is that Rightmesh nodes only forward data directly on a routing path, whereas Smartmesh broadcasts data omnidirectionally to all devices on their network. This is a very complicated technical topic but essentially boils down to security vs. ease of access.
Considering the fact that almost 4 billion people do not have access to communication services we can say that the project has a great future. The success of the project depends on the technology and unfortunately token here as a concept is not an integral part. Blockchain technology utility is not proven so the project has a little chance to become breakthrough. Technologies that dramatically reduce the cost of providing connectivity while maintaining high levels of reliability and low operational costs will surely introduce improved opportunity for people to work with businesses in places where infrastructure is on the back burner. A combined ability to easily communicate and facilitate transactions will enable effective functional use of their token while increasing value for its ICO investors.
RightMesh networks are self-forming, self-monitoring and self-healing without user intervention, utilizing WiFi, Bluetooth and WiFi Direct connections between devices. High bandwidth connections between nodes allow for media rich content to be transferred over high speeds across a RightMesh network. Data can be sent reliably over multiple hops and multiple paths to the destination, ensuring no loss in critical data. RightMesh is a networking platform that developers can easily deploy and integrate into their Apps. RightMesh is the world's first software-based, ad hoc mobile mesh networking platform and protocol using blockchain technology and MESH tokens to power growth.
Dr Jason Ernst is Chief Networking Scientist of Left and CTO of the RightMesh project. He has a PhD in Mesh Networking and Heterogeneous Wireless Networks as well as a M.Sc. on Scheduling Techniques for Wireless Mesh Networks from the Applied Computing faculty at the University of Guelph, where he works as an Adjunct Professor. Dr Enrst was CTO of Redtree Robotics prior to his current role and has written and published 20 papers on wireless networking and related topics. The main idea of ​​the project is to provide the Earth population with a communication services using a fairly new technology – a mesh network.
RightMesh, located in Canada, has developed and prospered under its parent company which is a certified B corporation. RightMesh was originally co-founded by Chris Jensen and John Lyotier in 2015. It is actually a decentralized mobile mesh networking platform that puts the power of connectivity right into the hands of the people itself. RMESH tokens are also the economic incentive paid to nodes for them to provide 'connectivity' between devices, and also to manage and sustain the network.
RightMesh is the world's first software-based, ad hoc mobile mesh networking platform and protocol using blockchain technology and RMESH tokens to power growth. Important hurdles will still need to be overcome, because RightMesh will use Ethereum tokens to power its operations, performance will likely be subdued as they will require a full internet connected node within a mesh network to process transactions. State channel technologies can theoretically work to improve user experience on the mesh network, though this consideration has not directly been made by their team.
This is over half of the world's population and the mission of this team is to "connect the next billion".
RightMesh, incubated by multi-award winning parent company Left, is on a mission to bring connectivity to the next billion users and lift 100 million people out of poverty.
RightMesh, incubated by multi-award winning parent company Left, is on a mission to bring connectivity to the next billion users and lift 100 million people out of poverty. The RightMesh project aims to build an ad hoc mobile mesh networking platform.
RightMesh
This agency had done a lot of the branding and marketing for RightMesh in a regulatory-difficult environment, and the acquisition was a strategic move to lock up the talent required to grow and scale the project. We believe the RightMesh team has done a great job over the past year ensconcing themselves within the entire decentralized community.
This decentralized connectivity option integrates Blockchain technology on the Ethereum network in order to provide unique codes for each node that uses it. RightMesh applications will be open source, allowing users in different countries to modify apps to be language specific, etc.
Each leadership role is filled by someone with significant business experience. They have several PHD scientists that combine decades of mesh networking experience, as well as several very high-profile advisors. They also have many team members with lots of overall blockchain development experience. In a word, it's well rounded, with a surplus of the specific qualifications I would want to see in a project this complex. Rightmesh describes itself as a decentralized mobile mesh networking platform.
However, we must branch out and beyond being a crypto company and focus on being a "mesh company". By that, we mean we must be thought leaders within a broader community and with the public at large about the transformative nature of the technology (both ours and other blockchain projects). We will need to work with our distribution partners to ensure there is sufficient tokens available to meet their bulk purchasing needs. For example, imagine a media company who wants to distribute 1M apps into Indonesia where the going rate for a cost-per-install ad campaign is $0.50/install (or $500,000). To compensate the users of the RightMesh network, the publisher would need to acquire a sufficient number of tokens to take this action.
Top ICO's
With the successful implementation of RightMesh users have to no longer be dependent on a centralized access point for networking. This decentralized mesh of consistently switching clients and hotspots is capable enough to give way to large-scale interconnected networks providing ultra-high levels of connectivity.
A Decentralized Mobile Mesh Network
This is over half of the world's population and the mission of this team is to "connect the next billion". RightMesh is a distributed network that incentivizes people to share mobile device resources, such as Internet, data, and storage, with those who lack access, thereby increasing global connectivity and facilitating international communication and commerce. RightMesh provides a decentralized Internet infrastructure, which is less vulnerable to disruption by natural disasters and deliberate interference from oppressive regimes. There are a lot of software applications that claim to be decentralized but rely on centralized infrastructure at the hardware level; RightMesh is the first truly decentralized network and platform that is actually p2p (peer-to-peer). Parent company, Left, is an 80-person multinational company and has invested more than $5 million in RightMesh.
RightMesh aims to incentivize users with token rewards in exchange for data, cutting out middleman services like internet and phone network providers and rewarding users directly. RightMesh is a networking platform that combine wireless mesh networks with blockchain-based technologies. As both a platform and a network, RightMesh enables developers to retrofit existing mobile applications and build new, P2P mesh applications. Then anyone in the local community, without internet access, can use their device to access this RightMesh data network. RightMesh want to enable 4bn people in the world, currently with no internet access, to have internet access using Ethereum and Mesh Technology.
User incentives to improve platform adoption are not well defined, as a result this ICO may only see profit in a long term scenario. It is critical that RightMesh develops beneficial partnerships with companies that tailor their solution to specific use cases, if they can be successful in this area, then the world may become a better place for many of us. Although the project looks promising, it is difficult for us to make an investment judgement with the information provided. The world's first software-based, ad hoc mobile mesh networking platform and protocol using blockchain technology and RMESH tokens to power growth.
They seek to remove all barriers for the world to be connected to the internet safely, cheaply, and free from centralized control. Thus, while we do not have a token burning mechanism at play, as the network grows and more mesh nodes are created, there will be greater demand for staking tokens on the Superpeer. This has the effect of slowing the velocity of tokens down considerably, removing tokens from active circulation. With every subsequent node of the mesh created, the value to the existing users grows as well, increasing the value of the network for all.
RMESH tokens within the platform are described as being transported between content providers and users to reward behavior and pay for goods and services. They claim that this will help the network grow itself, and therefore increase coverage of the network. These statements are not guarantees of future performance and undue reliance should not be placed on them. The company is under no obligation to share financial performance of the company. Furthermore, any description of the RightMesh platform and the functionality of the RightMesh tokens is for informational purposes only and may change as the RightMesh technology develops over time.