Monetha
And all of those companies have business model from which they will earn money (and reward their token holders as well). Every company needs revenues to grow and to make it a sustainable business. Capital raised during the ICO is only the first step towards a successful company.
Not necessarily has to be crypto payments, we want to integrate permanent payment service providers in order for us to facilitate payments for them. Monetha is a payment platform that is still in the very early stages of development. Formed in 2017, the company just recently put together a minimal viable product (MVP). Monetha has scheduled its ICO for August 2017, after which they plan to move to Singapore to take advantage of the burgeoning FinTech/Ethereum scene. The key technology behind Monetha is the decentralized trust and reputation system, or DTRS.
See Also on BitcoinWiki
Moreover, a trust rating will be assigned to every wallet address and automatically adjusted every time a transaction is made, a claim is filed or resolved, a review is written, etc. Smart contracts will automatically (algorithmically) adjust the trust rating of a merchant based on customer ratings and reviews as well as responsiveness to claims, and that of a customer based on purchase and claim history. These trust ratings will be visible to other merchants or customers. Unlike ratings in centralized marketplaces, which are not influenced by unrated or unreviewed transactions, Monetha ratings will be automatically influenced by all transactions to varying extent.
We have never said that Monetha is fully decentralised. We are developing payments system with a decentralised trust and reputation layer on top of it. Before blockchain that was never possible and those two were separate business models. Monetha is as much centralised and decentralised as TenX, OmiseGo, MetalPay, Iconomi, BAT and many more. All of those companies are legal entities creating products levering blockchain technology.
Decentralized Trust and Reputation System (DTRS)
And furthermore, Monetha will allow users to transfer or export their accumulated reputation to other platforms. Decentralised trust and reputation system (DTRS), powered by smart contracts, works flawlessly with Monetha's payment processor. We let the buyer see trustworthy and transparent reviews made by previous customers. Based on the information saved during the transaction, clients and merchants will be able to file/solve a claim, rate each other, view ratings etc.
Token Alleged Inherent Value
Their history is then recorded onto the immutable Ethereum blockchain so that others can make well-informed commercial decisions. Monetha has a superstar team of many industry professionals including, Eric Duprat, a former executive at PayPal. Under Duprat's leadership, PayPal's mobile payment business saw a growth from $7M of payment volume in 2008 to $4+ billion in 2011.
Monetha's decentralized trust and reputation system is universal, where customers can see the rating of any merchants that integrates with Monetha. The trust ratings of both the merchant and the customer are updated automatically every time a transaction is made. The core of the Monetha team consists of Justas Pikelis, Laurynas Jokūbaitis and Andrej Ruckij as the platform's founders.
That technology is powered by smart contracts and works flawlessly with Monetha's payment processor. Monetha's system allows buyers to see trustworthy and transparent reviews made by previous customers, while retailers can view reviews for each customer as well. The team has released a minimal viable product (MVP) in May 2017. It is a plugin for merchants to accept payments in Ether in e-commerce stores. The MVP is available for merchants using the WooCommerce and Magento platforms.
With Host protocol Host.Games can support viral growth without reaching the limit because of scalability issues! Active Zwoop Using AI and blockchain, Zwoop's unique find engine helps shoppers find the products they want from any website, at the best available price with a single click checkout. Shoppers will be able to pay for products using cryptocurrency and ZWP tokens. To date, Monetha has developed an MVP which provides merchants with a Monetha payment gateway script that can be integrated into any shopping cart or website (some scripting knowledge is required).
Their Decentralized Trust and Reputation System (DTRS) will empower merchants and consumers alike with the ability to view transparent reviews, building a more trustful process. Monetha will also reduce the number of transaction steps from up to 16 to one, and provide merchants with a fixed commission fee of 1.5%. The ICO Analyzer makes use of Monetha's Decentralized Reputation Framework, namely its Payments and Reputation layers.
This makes it crucial for merchants to deliver properly the first time, or to make amends quickly if there is a problem with an order. Monetha was created to help merchants and consumers by building a platform that reinforces trust and reputation, leading to an increase in the satisfaction and success of online ecommerce transactions. All of that is combined with a payment gateway, and its all built with smart contracts on the Ethereum network. Ethereum, specifically, is seen by Monetha developers as a versatile platform for the development of digital products and assets. They believe it will ultimately supersede Bitcoin as the payment platform.
The exchange between the two tokens is governed by a decentralized protocol that self-regulates token supply to meet ongoing changes in demand. In combination, the two token relationship solves key problems experienced by first generation cryptocurrency projects. No costs, no complicated development required – Host a game and start generating profits! The Host.games is built on top of a Host Protocol – a next-generation blockchain protocol that supports unlimited scalability which in-turn enables and sustains millions of operating DApps.
Our devices present the first and the only worldwide network of such kind.Active Centric Centric is the world's first dual-cryptocurrency payment network.
A big "game changer" is the connection to physical click & collect pick up point devices – Coolomats.
Its innovative and unique concept is engineered to achieve breakthrough as a reliable form of payment.
A big "game changer" is the connection to physical click & collect pick up point devices – Coolomats. Our devices present the first and the only worldwide network of such kind.Active Centric Centric is the world's first dual-cryptocurrency payment network. Its innovative and unique concept is engineered to achieve breakthrough as a reliable form of payment. The first token, Centric Rise, is the network's transactional currency – it steadily increases in price hourly in accordance with immutable price blocks set publicly one year in advance. The second token, Centric Cash, is pegged to the first and will freely trade on major cryptocurrency exchanges.
Merchant-side functionality enabling rates, limits, and automatic exchange to local currency are still to be developed. Monetha is a legal entity in Switzerland (Monetha GmbH), that is creating a payment solution levering blockchain technology.
– When expanded, reviews will now open in a new window. – You will now be notified when the buyer or seller signs the deal. – You will also get a notification when the deal is made on an e-commerce platform. We are taking the time, we are speaking to them, we are letting them know what is happening with Monetha. So community is a driving force, I think, for every ICO because the token holders – we have over 8,000 token holders – are the people who vouch for your product.
Monetha Review
Then, we will need revenue from our customers to grow the company. Monetha is a blockchain company creating a​ ​universal,​ transferable, ​immutable trust​ ​and​ reputation​ ​system combined​ ​with a payment​ ​solution. It was founded in January, 2017 by three crypto enthusiasts. They have self-funded the MVP (Minimal Viable Product), which can be integrated by merchants. This makes it easy to review both merchants and customers, and to see the history of all such reviews, leading to a working Trust and Reputation System.
Monetha is creating a universal decentralized trust and reputation solution working together with mobile payments processing on the Ethereum blockchain leveraging smart contract technology. In short, Monetha wants to be the decentralized version of Paypal and Trustpilot. The company's advisors include Sean Harper, James Downton, Nik Rokop, Paolo Rebuffo, and Robertas Visinskis. Develop and introduce a decentralized payment, trust and reputation system for retail merchants. Roll out Monetha as a payment option to retail merchants, allowing physical stores to accept mobile payments from Ethereum based currencies, and exchange to their preferred local currency.
Knowing that at least ten percent of the global GDP is expected to be stored on blockchain platforms by 2025, Monetha offers retailers an opportunity to tap into this technology in a user-friendly and accessible manner. Monetha's solution makes it possible to record each commercial transaction and allow both the merchants and customers to "verify" each other prior to doing business. Monetha wants to make a seller's history easily checkable by the user to build trust.
Monetha payment platform runs on Ethereum blockchain and was created with the belief that trust, reputation, and transparency in transactions are unseen but essential elements of ecommerce. Monetha team sees the current ecommerce ecosystem as functional, yet ultimately flawed system brought down by the ball and chain put around the legs of both merchants and customers. Monetha wants to help them by presenting itself as the solution to four main problems its team have identified in the whitepaper. The information will be hashed and available only to authorized parties, but accessible to both merchant and client on the Monetha app. Based on this information, clients and merchants will be able to rate one another, as well as file and resolve claims, all of which will also be recorded on the blockchain.
The Monetha app is used to enter reviews and claims, and it stores all of this data on the blockchain. Customers are able to file a claim if they receive an item that is damaged, defective, or simply something they aren't satisfied with and these claims will impact the merchant's Trust Rating.
So every city that we visited in the world, we do need our token holders, and even when you are walking on the street, people are saying "Hey Justas, how are you? ", it's amazing, and it would really help drive the product to the option later on. So, we want to collect those payments, we want to see the fact that those payments have happened and then built core trust and reputation on top of that.
Prior and after ICO, partnerships were already made, including – Pigu Group, which is the largest online retailer in Baltic States. Foodout Group, which is the leading food delivery company in Central Europe and many others.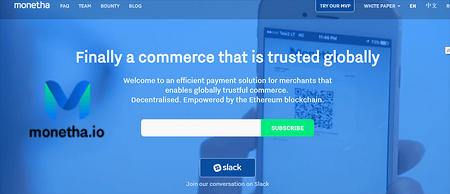 Kellogg N. Fairbank, a former VP Sales/Head of Business Development for Braintree Payments in Europe. As part of the Braintree/Venmo team, he helped to grow the company to $12 Billion in overall payments volume and $4 Billion in mobile payments volume annually, until its eventual sale to PayPal in 2013 for $800 Million.
First priority after the crowdsale is to gather the best team possible and attract talented and accomplished people from payments, blockchain, Fintech industries. We will move our operations to Singapore, which has a huge Ethereum community and extremely good business environment for fintech startups. Moreover it has a great connection to our go to market – Asia.
The traders' prior record serves as a seal of quality, and there is no need for each merchant to be tested for reliance each time a new customer approaches him. Monetha team believes that trust is a rarity today and it can be destroyed too easily. Reputation is another intangible good which the seller can "transfer" across the platforms with the help of Monetha.