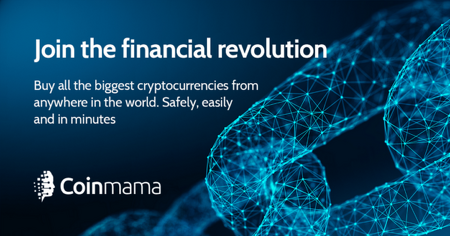 Currencies and Payment Methods
The best strength of Coinmama is its ability to facilitate bitcoin purchasing using debit and credit cards from a lot of countries. Currently, it accepts Visa, MasterCard, and via the Western Union. By creating special arrangements with support, you can also use the money to purchase bitcoins or ether. Does Coinmama really match up to all other Bitcoin & Ethereum exchanges in the market?
The verification process is slightly demanding, a good thing in our opinion, and successive levels of account verification allow you to get higher purchase volumes. There is also a Western Union option so you can still buy even if you don't have a card. It has a straightforward user interface that is intuitive for beginners in an industry poorly served when it comes to ease of use websites. Some have even had to temporarily suspend new user registration due to overload. Coinmama has avoided the traffic jams thanks to their large and dedicated team.
The Coinmama web platform sells ETH and BTC to registered users, allowing them to pay with Visa or MasterCard or through a 3rd party service (Western Union). There are 4 verification levels with different lifetime purchase limits.
Lifetime purchase limits vary from 10,000 to 1,000,000 USD according to the user's verification level. The platform has clean, intuitive design and is fairly easy to use. It provides users with a platform to purchase Bitcoin and Ethereum using credit and debit cards. However, Coinmama does not provide a platform for trading in cryptocurrencies nor does it allow users to sell cryptocurrency.
You won't need to spend unnecessary amounts of time waiting and worrying. They only sell Bitcoin and Ethereum but that's okay – once you have Bitcoin you can easily swap it for a different crypto coin. Since many of the more obscure coins can only be obtained by trading one crypto for another, Bitcoin gives you access to the entire market. Once the payment and wallet address are confirmed, the cryptocurrency is sent immediately to the user. The minimum purchase amount on Coinmama is 60 USD (or its equivalent in EUR) at present, although this is based on the price of Bitcoin.
Coinmama Review Summary
The platform doesn't offer an API or mobile app, but they plan to add other features, such as allowing users to sell cryptos and supporting more coins. Coinmama is a Slovakia-based exchange platform known as one of the fastest and easiest ways to buy Bitcoin or Ethereum with a credit or debit card. The platform is available in over 210 countries (including some of the US states) and sells BTC or ETH to its users, accepting Visa, MasterCard, and Western Union payments.
As a result, payments can be made using all local currencies. It is also important to point out that Coinmama does not offer its own wallet, so you will need to have your own wallet before you can buy a digital currency from the exchange. Also, you cannot execute bill payment or money transfer services on this platform. It is also not possible to sell cryptocurrencies through Coinmama; you can only buy. In the same vein, there is no option to link your bank account.
Like an Amazon checkout, you pay after you have selected your currency. For a SEPA bank transfer, note the bank account details, log into your online bank and process the payment.
Alternatively, you can fund your account by SEPA transfer and knock 5 percent off the fees. 0.50% + $0.99 to 3.99%102 countries (see full list)Knowledge Base When it comes to exchanges, Coinmama is often compared to Coinbase.
Buying Limits
Your coins will be transferred once the bank transfer has been received (typically within 24 hours). Alternatively, you may go to your bank and order a bank transfer. This amount might increase depending on whether your bank/credit card issuer charges a cash advance fee as well as the currency you are using to make payment. Currently, over 1.5 million customers use the service in over 200 countries.
Coinmama is an international platform that provides an easy way to buy cryptocurrency with a credit card, debit card, or bank account.
In contrast, a cryptocurrency exchange like Karkaen or Binance acts as an intermediary between buyers and sellers. Coinmama charges a 5.9 percent trading fee, which is included in the price. If you use a credit or debit card another 5 percent is added. At 10.9 percent, the overall fee is higher than that of many exchanges.
Or they may want to keep some bitcoin in their wallet to spend. Coinmama has created an e-commerce store for buying eight major cryptocurrencies.
Coinmama, on the other hand, has scores of Bitcoins and Ethereum coins in an account, ready to transfer to your private wallet. Once you've made your payment through credit/debit card or bank transfer, you'll only have to wait a period of minutes or hours for your new coins to arrive. This is much faster and more convenient than working with Coinbase.
An XBX index is a real-time representation of Bitcoin's equivalent in USD, which is calculated by an algorithm based on observable trading activity on leading Bitcoin exchanges. The good thing about Coinmama is that it locks the price at the time of purchase.
You need to pass the basic verification level before you can buy bitcoin. Buying limits are not determined by your verification level. On most cryptocurrency exchanges, the trader is required to deposit money before trading. Remember on Coinmama, you are not actually trading but buying at the market price.
Mobile apps allow crypto users to monitor the market at all times, even when they are on the move, and buy cryptocurrency when prices are low. Their ability to buy at low prices are limited without a mobile app. Coinmama is best for those wanting to buy cryptocurrencies via credit card, but who are willing to pay a 5.5% exchange fee on top of 5% payment processing fee. The platform also provides a cash payment option via Western Union.
Both accept credit card and debit card as a payment method and allow you to purchase Bitcoin, Ethereum, Litecoin, and Bitcoin Cash. Coinmama has lower fees for bank transfers, 0%, yet higher fees for credit card and debit card purchases, 5%, when compared to Coinbase which charges 1.49% and 3.99% respectively. Coinmama exchange is a brokerage service which allows users to buy Bitcoins and other altcoins instantly using a credit/debit card. The price listed on the exchange is based on the XBX Index.
Coinmama is an international platform that provides an easy way to buy cryptocurrency with a credit card, debit card, or bank account. It offers users in 188 countries the ability to buy Bitcoin as well as several altcoins including Ethereum and Litecoin, and to sell Bitcoin for fiat. Coinmama aims to give users as much financial autonomy as possible, and customers are able to use the wallet of their choice. Turn to Coinmama if you're looking to buy Bitcoin with a smile and don't want to store your coins on an exchange. Coinmama is the place to sell orbuy cryptocurrency if you are seeking a fast and efficient transaction at a firm price.
Hence, there will not be any fluctuations after placing the order and users will receive the exact amount of coins when the order was placed. In spite of its numerous benefits, however, there are certain things that still prevent Coinmama from being one of the very best exchange platforms in the world. One of such is the inability of users to sell Bitcoin or Ethereum through the site. Another drawback is that customers cannot link their bank account to facilitate new purchases.
Coinmama, itself, is your trading partner – in the same way your bank is your seller when you purchase a money order. The buying process is like buying a book on Amazon but instead of sending the book to your home address, you send your new digital money to your digital wallet address.
One of the things that make Coinmama a popular exchange in the Bitcoin community is its ease of use. It features a credit card payment option that enables users from all over the world get their hands on Bitcoin and Ethereum whenever they want using their local currencies.
Coinmama is a cryptocurrency exchange launched in Israel in 2013 that makes buying and selling crypto easy. Whether you consider bitcoin the new gold and a store of value or a speculative asset, more and more people want to put some bitcoin in their investment portfolio.